There have been quite a few news stories lately concerning Antarctica, many specifically about McMurdo Station, so I thought I would collect a few of them to share here.
Strong earthquake hits off Antarctica's coast
(January 16, 2012)
A strong 6.6-magnitude earthquake struck Sunday off the coast of Antarctica, prompting a warning that there was a "small possibility" it could trigger a tsunami. The tremor was centered in waters south of South America's southern tip, about 334 miles (539 kilometers) west of Coronation Island and 388 miles northeast of Palmer Station in Antarctica, the U.S. Geological Survey reported.
3 dead, 37 rescued in Antarctic fishing boat fire
(January 11, 2012)
Fire raged out of control on a fishing ship near Antarctica as the crew tried to fight back the flames early Wednesday. Three fishermen died, and two of the 37 rescued had severe burns. The Jung Woo 2, got into trouble in the Ross Sea about 370 miles (595 kilometers) north of the U.S. McMurdo Station Antarctic base.
Another story about the Jung Woo 2's accident can be found
here, from Stuff.co.nz
.
Lockheed's $2B polar project under attack
(January 12, 2012)
CH2M Hill Antarctic Support, Inc. is protesting a $2 billion contract won by Lockheed Martin Corp. to support the U.S. Antarctic Research program in the South Pole. The contract is to provide logistical support and implement infrastructure for the three workstations located in the South Pole, McMurdo and Palmer. The work runs the gamut from keeping computer networks running in the harsh conditions, to installing light bulbs and bringing in food and supplies.
And, of course, not all of the news is gloomy:
A new crab has been discovered on the Southern Ocean floor of the Antarctic, and has been named after actor David Hasselhoff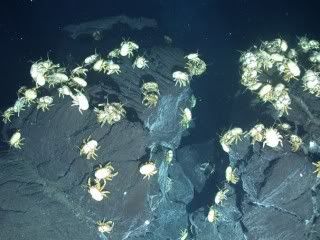 photo from washington post