This blog isn't just about life in Antarctica; it's about life in general, so time to change things up a bit!
I'm an avid reader (a self-proclaimed bibliophile, if you please), and I generally devour books like they're a particularly good chocolate: quickly and with no guilt. But every so often I find a book that needs to be savored, read slowly so that every word has time to sink into my soul.
1Q84
, the newest novel by Japanese author Haruki Murakami, was not a book that I originally wanted to read. I'd read Murakami before (
A Wild Sheep Chase
), and enjoyed it. But at a whopping 944 pages, and weighing in at almost 3 lbs, this book seemed more like a bludgeoning weapon than something I wanted to spend my time on. But thanks to the insistence of some friends, and a few very positive book reviews, I decided to give it a shot.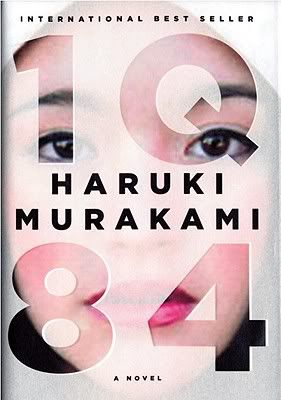 In short, the novel follows Aomame, a young woman with a special talent for killing men, and Tengo, a man who teaches math but wants to be a novelist, as they live their lives without knowing that their lives are constantly overlapping. Aomame finds herself in a strange new world, a world with two moons, which she dubs 1Q84-- the Q is for Question, because she's not sure where she is, or how she got to this world from her own 1984. Meanwhile, Tengo agrees to act as a ghostwriter for a novel by a young woman, Fuka-Eri, only the novel may not be fiction after all.
I was captivated by this book within the first five minutes of picking it up. The plot is intriguing and original, the characters are fresh and quirky. The translators did an excellent job of keeping things Japanese, but making them understandable to an American audience. And the plot never gets stagnant; while there were times that I found myself skipping a paragraph or two of non-essential narrative, I never once found myself bored, which is rare in a book of this size! Every chapter leaves you eager for the next, and more than once I found myself sacrificing sleep to get through a few more pages.
To summarize this review, A+ read, and highly recommended! As
NPR puts it
, "
1Q84
is a gorgeous festival of words arranged for maximum comprehension and delicious satisfaction".