The end of last week was full of new and exciting things, and made me remember why I love Antarctica so much.
First, on Friday, there was excitement at Hut Point, the peninsula that borders McMurdo on one side. My co-worker and I watched from our window as a crowd of people gathered at the point in the middle of the afternoon, so we decided to shrug on our coats and hats and dash out to join them!
Nature in Antarctica is amazing to behold, and whales are the main focus at this time of the year. Orcas and Minkes can be seen every day as the ice in the harbor breaks out to sea. On this day, a group of orcas was attacking a few seals on the ice edge.
Alas, by the time we got out there, most of the whales were gone. We relaxed in the nice, warm (relative, by Antarctic standards) weather, and watched the ice and waves instead.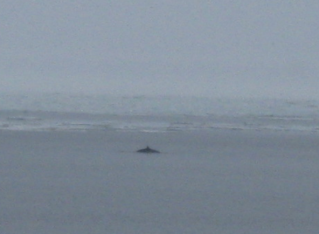 a whale fin, one of about half a dozen breaches we saw



the ice edge, just outside of town



some interestesting ice melt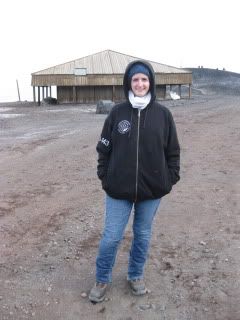 we passed 'discovery hut' on our way back into town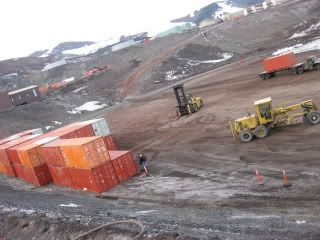 we also passed the loading bay for the cargo vessel, which is due to arrive in ten days


Then on Saturday, I receiving training on the Delta vehicles, which are monster trucks that can carry a few dozen passengers. The wheels alone are almost as tall as I am!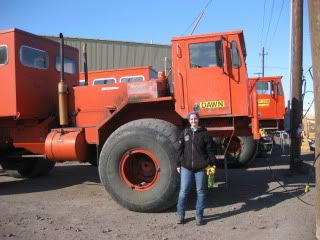 heading out on the ice road for some practice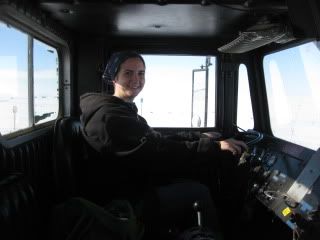 behind the wheel. driving something this big is a bit terrifying!
The next week should have more fun stuff in it. There's an ice breaker in dock right now, the second of five ships we expect to have in McMurdo Harbor this month (and an upcoming post unto itself), and the Nathaniel B. Palmer, one of the U.S.A.P. research vessel's, is due into town for a short docking period on Feb. 10. Our cargo vessel is due in between the 14 and the 16, and a cruise ship with tourists may make an appearance soon as well!
Add to that the usual everyday adventures of Antarctica, and I think some interesting things are in my future!